If you are here from Dash of Delightful and the virtual Christmas Cookie swap, welcome! I hope you are enjoying all of the recipes shared, thank you to With Love From Catt for organizing the Christmas Cookie swap! You can find the next cookie recipe (as well as links to all of the recipes) at the bottom of this post! Here is my family's most favorite homemade sugar cookie recipe with buttercream frosting. My favorite thing about these cookies is they are so delicious even without the icing or decorations. I feel like so many sugar cookie recipes can be so bland and it's only the frosting that rescues them. Read on for the recipe and to get the next cookie recipe in the cookie swap!
*This post may contain affiliate links. I earn a small commission when you purchase through these links at no extra cost to you!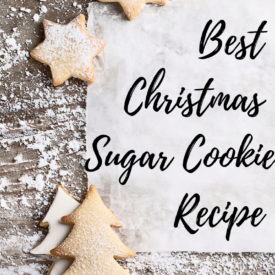 Christmas Cut-Outs with Buttercream Frosting
The most delicious Christmas sugar cookie recipe with buttercream frosting.
Equipment
Mixing bowls

measuring cups

measuring spoons

Rolling Pin

cookie cutters

sifter

pastry cloth and rolling pin cover (if desired)
Ingredients  
Cookie
1

cup

butter

(2 sticks)

1 1/2

cups

sifted powdered sugar

1

whole

egg

1

tsp

vanilla

2 1/2

cups

flour

1

tsp

baking soda

1

tsp

cream of tartar

1/4

tsp

salt
Buttercream Frosting
2 1/2

tbsp

butter

1 1/2

cups

sifted powdered sugar

1 1/2

tbsp

cream

3/4

tsp

vanilla
Instructions 
Cream together butter, sifted powdered sugar, egg, and vanilla.

In a seperate bowl mix flour, baking soda, cream of tartar and salt.

Slowly mix flour mixture into the butter mixture.

Form into a ball, flatten and wrap in saran wrap.

Put into fridge to chill for 30 minutes.

After dough is chilled remove from fridge.

Preheat oven to 400 degrees.

Sprinkle a pastry cloth or clean counter top with a mixture of powdered sugar and flour. You can also cover your rolling pin with flour/sugar mixture.

Roll dough out to 1/8 to 1/4 inch thick.

Cut out cookies and place on ungreased cookie sheet.

Bake for 6 minutes at 400 degrees.

Remove from oven and place cookies onto cooling rack.
Frosting instructions
Blend together butter, sifted powdered sugar, vanilla and cream in a kitchen aid or with a handheld mixer.

Frost cookies after they are cooled, decorate with sprinkles or whatever you would like and enjoy!
Tips for making the best sugar cookie recipe for Christmas
This cutout sugar cookie recipe came from my grandma and has been a favorite for as many years as I can remember. One of the reasons I love it so much is the addition of powdered sugar in the dough gives the cookies such a sweet flavor that the cookies are delicious all on their own without the addition of frosting but the buttercream frosting just takes it to another level!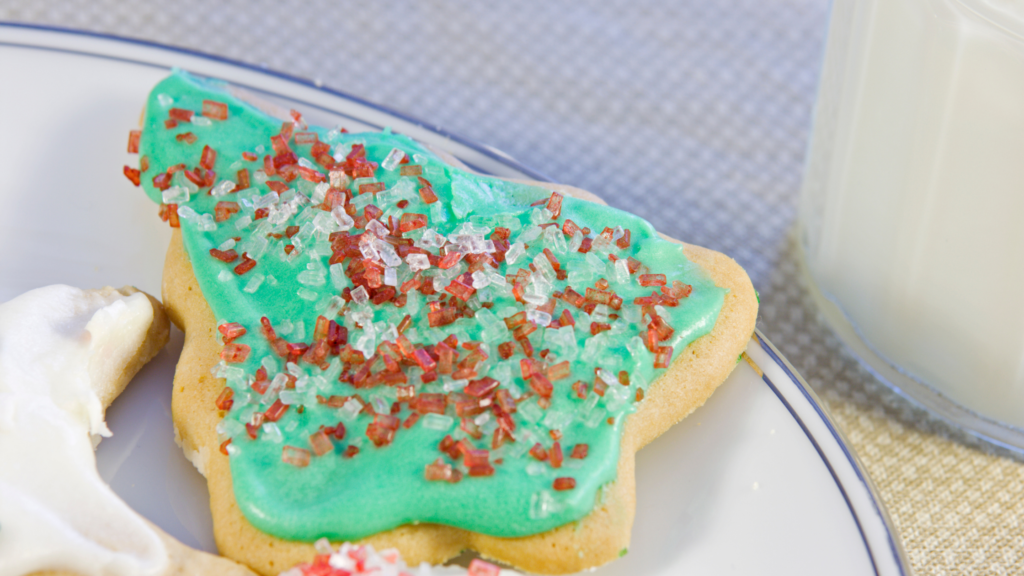 Room temperature butter
When making sugar cookies from scratch and the frosting you want to make sure the butter is at room temperature so that it is soft enough to blend evenly and smoothly with the other ingredients. If the butter is too cold it will be in large chunks throughout your mixture.
If you forgot to soften your butter there are a few ways you can do it. You can put the butter in the microwave at 50% power 5 seconds at a time, flipping the butter to a different side every time. The butter is soft when it indents if you gently press your finger into it. Microwaving can cause the butter to soften unevenly so another option is to get a large bowl with warm water and then put the butter in smaller bowl and submerge it in the larger bowl. If you are going to be using a stand mixer you can cut the butter up in small chunks and mix on low speed until you reach the desired softness.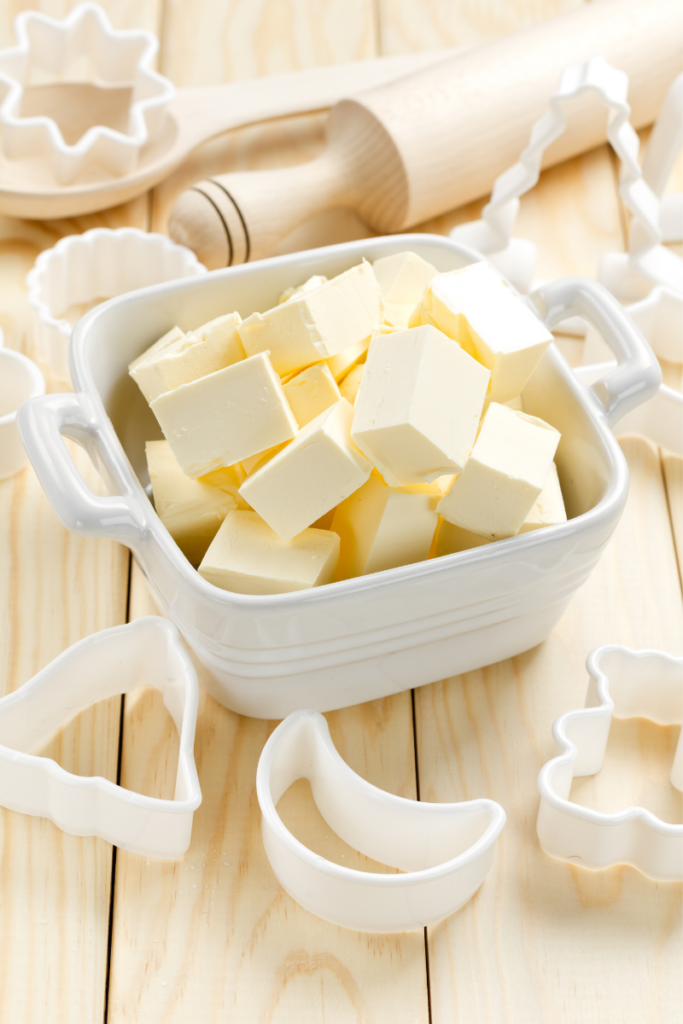 Chilling the dough
When you are making a rolled sugar cookie recipe, it is important to make sure the dough is chilled enough otherwise the dough will be difficult to roll out and be too soft and sticky! I recommend a minimum of 30 minutes to ensure the dough is adequately chilled but you can also store the dough in the fridge for longer.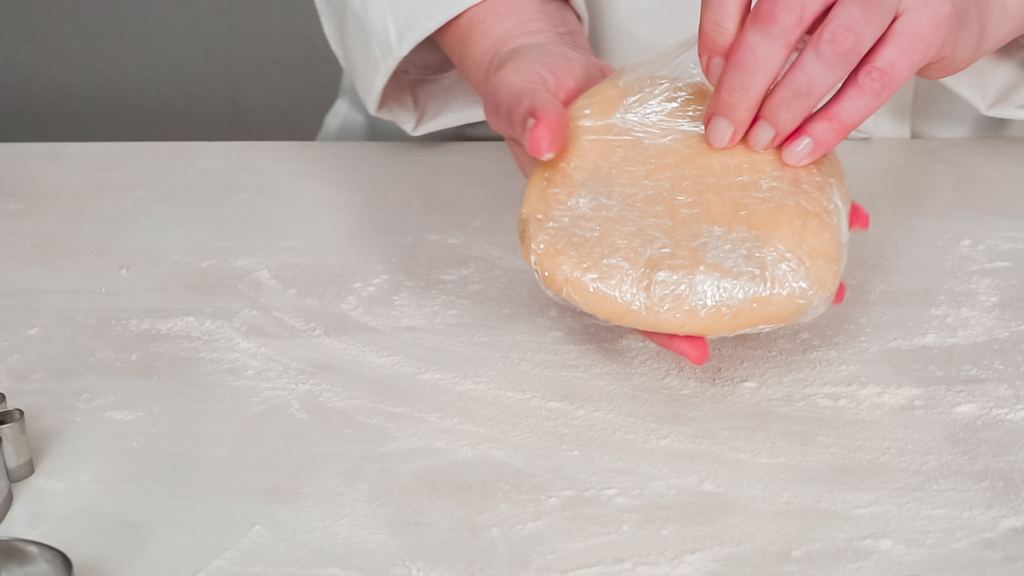 How to roll sugar cookie dough
Once your dough is adequately chilled it is time to roll it out with your rolling pin! Growing up my mom always used a pastry cloth and rolling pin cover but if you don't have one it is ok to just use a clean counter top. Another reason these cookies are so tasty is that we like to use a mixture of flour and powdered sugar when rolling them out. Sprinkle across the surface you will be using and rub onto your rolling pin. Anytime the dough is getting too sticky just add more flour and powdered sugar mixture.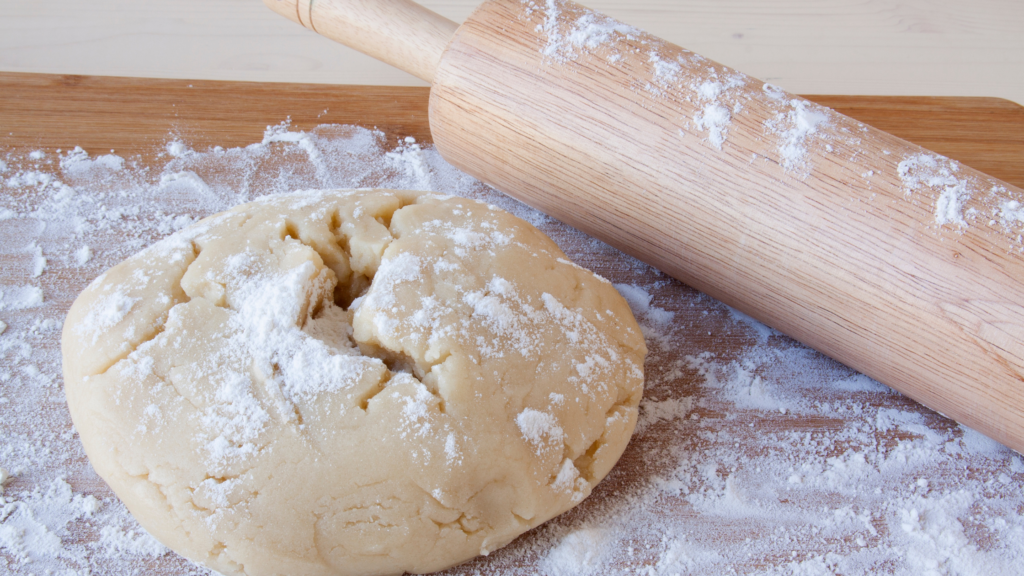 Roll the dough out evenly to about 1/8 to 1/4 inch thick depending on how thick you like your cookies. Once you have them rolled out you can start cutting out the shapes! Sometimes I like to set out all my cookie cutters on top of the dough to fit as many as possible before cutting the shapes. Lay the cookies onto an ungreased cookie sheet. If you want to do just sprinkles instead of icing you can put sprinkles on at this time and press gently into the cookies before baking. I like to get a few trays ready at a time since the cookies only stay in the oven for 6 minutes. I always have another tray waiting to go in. As you use up the rolled out dough gather all the scraps, shape back into a ball and then roll out again. Repeat this process until there's not enough dough left to cut any more shapes.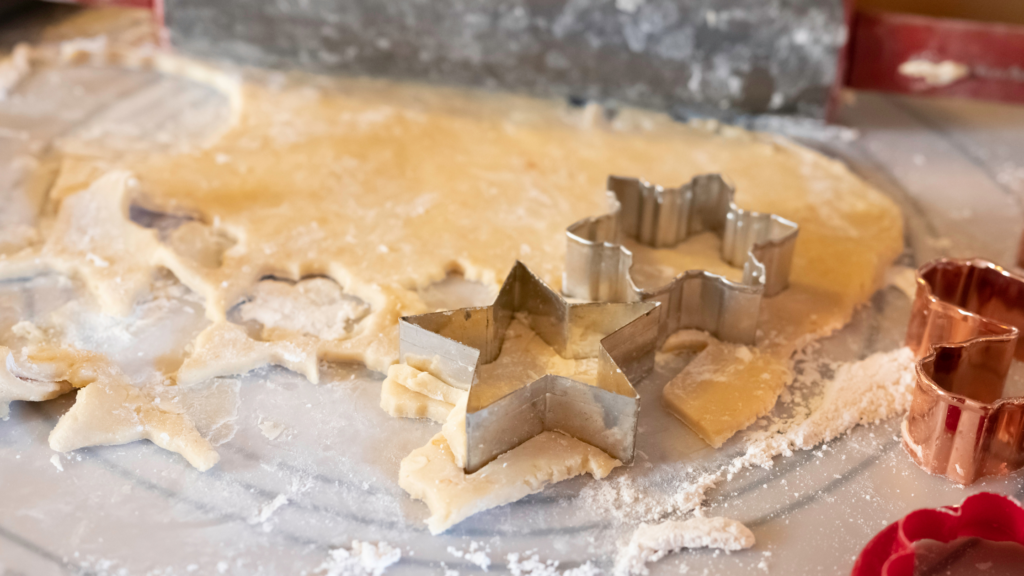 Baking the cookies
These easy sugar cookie cut outs only need to go in the oven for about 6 minutes or so. I like to keep an eye on them because it is easy to overcook them. They can get slightly browned around the edges but don't worry about them being undercooked they will continue to bake once they are out of the oven. I typically leave them on the pan for a few minutes before transferring them to a cooling rack. Once you've cooled them enough you can stack them up until you're ready to frost!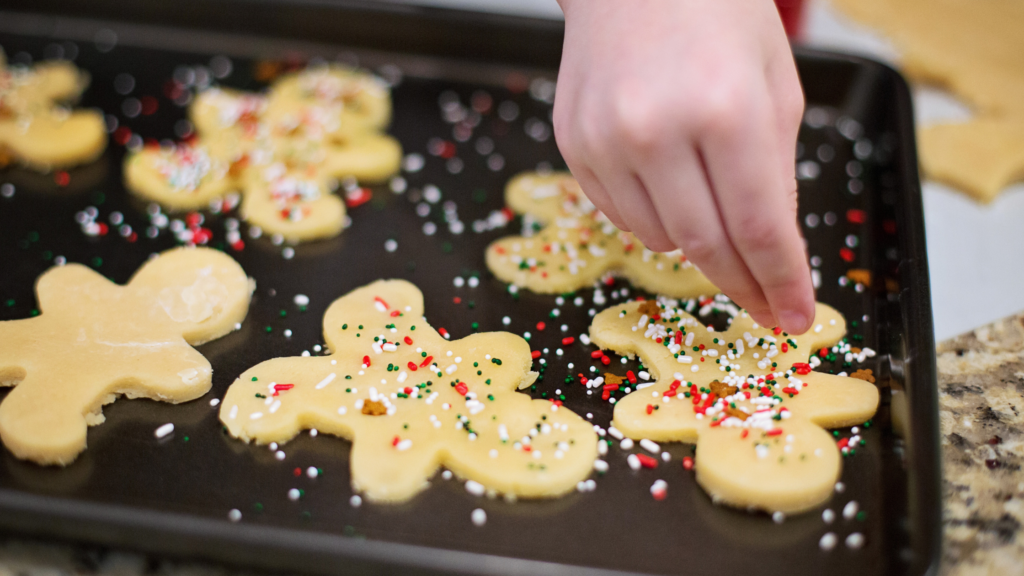 Frosting the Cookies
These cookies are just as delicious without the buttercream icing but in my opinion the frosting is where its at! The recipe above is the best Christmas cookie frosting. When you are making the frosting it may be tempting to keep adding cream to make the frosting less stiff but trust me that you want it to not be too runny. The best way to make the icing is either with a stand mixer or a hand held mixer. If your frosting is too runny you will need to let icing sit and harden for a lot longer before you store the cookies. If your frosting is more stiff, once you are done frosting them and decorating howeveryou like you can store them in a container. I like to put a sheet of wax paper between each layer of cookies to keep them seperated.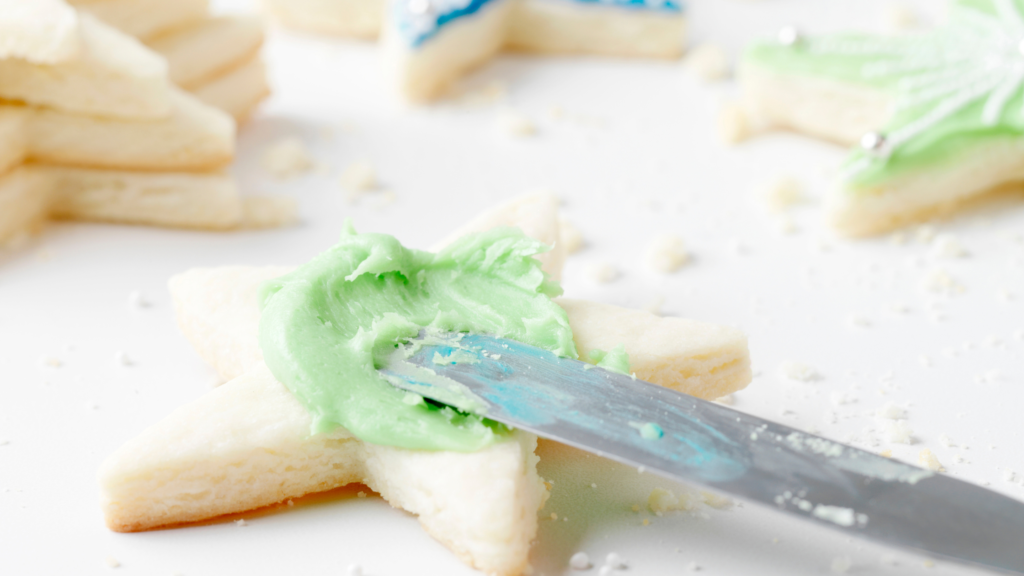 These cookies can be a bit crunchy to start out (which is still good) but my favorite part about them is they start to soften up after being frosted and they are so good! I hope you enjoy them as much as my family does.
For other seasonal recipes check out my Pumpkin Bread Recipe or the Easy Spiced Cider Recipe!
Next recipe in the cookie exchange!
For the next recipe in the cookie exchange head over to Sam Weaver Wellness and Nutrition for her Peanut Butter Chocolate Chip Protein Cookies!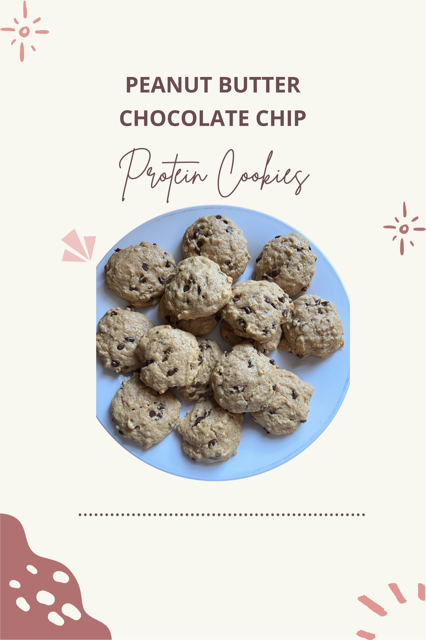 Here are the rest of the recipes in the cookie swap! Be sure to check them all out!