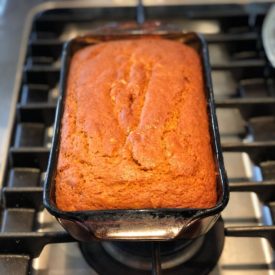 Pumpkin Tea Bread
The perfect fall recipe. You will fall in love with this easy pumpkin bread using Libby's canned pumpkin.
Ingredients  
4 1/2

cups

sugar

1 1/2

cups

oil

4

whole

eggs

1

can

pumpkin

large can 29 oz.

4 1/2

cups

flour

2

tsp

salt

1

tsp

baking powder

1 1/2

tsp

cloves

1 1/2

tsp

cinnamon

1 1/2

tsp

baking soda
Instructions 
Mix flour, salt, baking powder, cloves, cinnamon and baking soda together in a bowl and set aside.

In a large bowl mix oil, sugar, and eggs.

Add can of pumpkin and flour mixture. Mix to combine.

Pour into 3 greased loaf pans.

Bake at 350 degrees for 1 hour and 15 minutes.
I don't know about you, but I have always loved looking back on old recipe cards! My mom still has the same box we have always had, and looking through the recipes always makes me feel nostalgic. I'm excited to start sharing some more of these recipes here. I consider this the best pumpkin bread recipe around.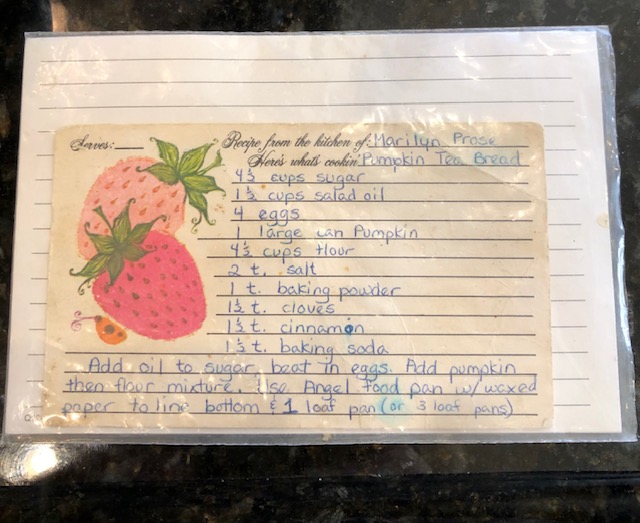 Best Pumpkin Bread Recipe
This is the best recipe for pumpkin bread and has easily been one of my favorite recipes my mom made growing up. I'm going to admit something crazy to you. I don't like pumpkin pie, there I said it! It's just never been my favorite. But throw all of those spices and a can of pumpkin into a batch of pumpkin bread, and it turns into my favorite fall recipe!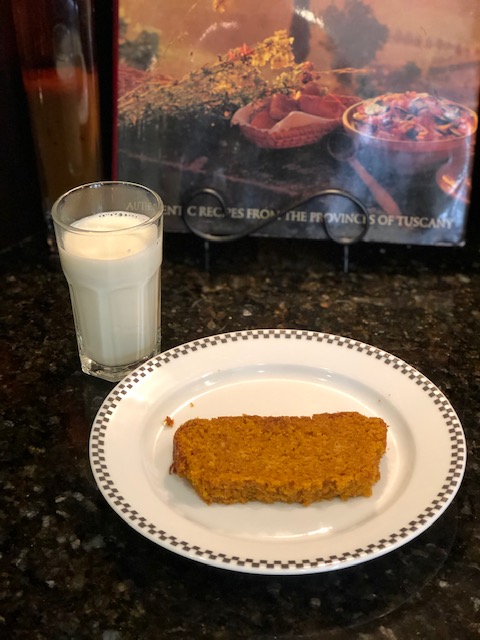 After I moved to Minnesota, I was introduced to pumpkin bars with cream cheese frosting. I must admit I am a pumpkin bread purist. I prefer just the simplicity and delicious flavor of the pumpkin bread itself!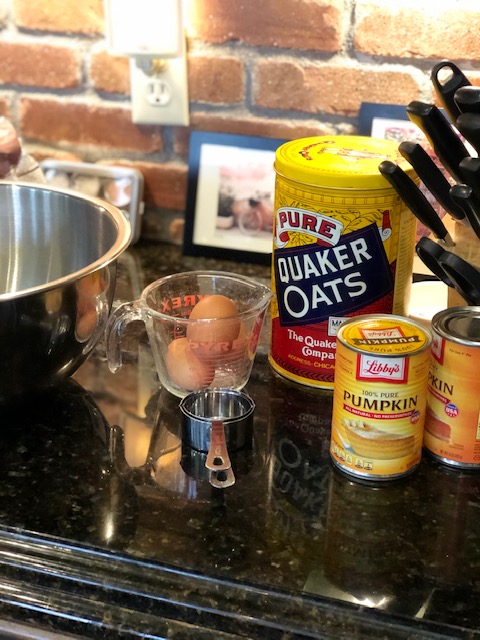 29 oz can pumpkin recipe
In my opinion, if you want the best recipe for pumpkin bread, you have to use Libby's 100% Pure Canned Pumpkin. You can use the large 29 oz can or two smaller 15 oz cans. The recipe calls for an angel food cake pan plus one loaf pan for baking. You can also use 3 loaf pans, which we typically choose.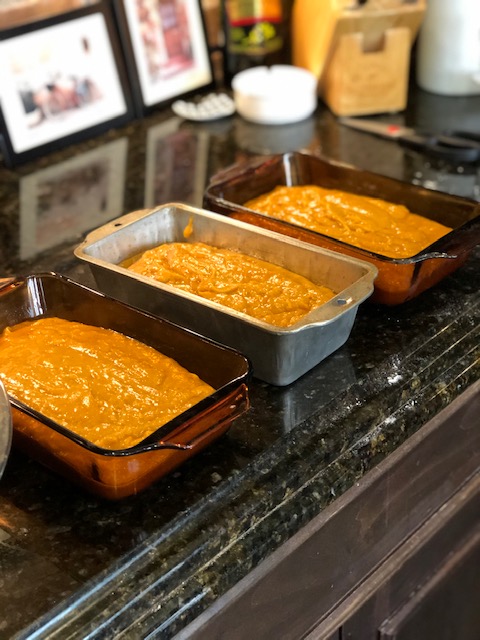 How can I tell if my Pumpkin Bread is done?
The best way to see if your pumpkin bread is done is to pull it out of the oven and stick a knife in the center of the loaf. The pumpkin bread is done if the knife comes out clean (or with a few crumbs). If the knife comes out looking like the mix you originally poured into your loaf pan, keep on cooking!
Can I leave Pumpkin Bread out overnight?
You can leave your pumpkin bread out overnight, but you want to be sure to wrap it appropriately or put it in a plastic bag to keep it from drying out. Any loaves that will take you longer than a couple of days to eat should definitely be stored in the fridge or the freezer.
Do you put pumpkin bread in the fridge?
Yes, you can and should store your pumpkin bread in the fridge. For maximum shelf life, this bread can be stored in the refrigerator or freezer. Honestly, I love pumpkin bread, just as cold as warm! This bread is delicious, both warm or cold, and with a glass of milk! My mom will actually wrap the other two loaves in tin foil and put 2 in the freezer until she's ready to enjoy those. She will usually just let it thaw out a little bit and then enjoy it cold, but of course, it is also delicious right out of the oven! For another cozy fall recipe, check out this Easy Spiced Cider!
So there you have it, the best pumpkin bread recipe! It's the perfect treat for fall and will impress your friends and family. For more easy recipes, plus other tips and tricks to make life less stressful, be sure to connect with me on Instagram or join my private Facebook group. I can't wait to see all of your delicious creations!