Between work, taking care of the kids, and managing the house, it's no wonder parents often feel like they don't have any time for themselves – let alone time for a date night with their partner. But date nights are essential for keeping the spark alive in any relationship. My parents taught us from early on how important it was to make their marriage a priority. I have vivid memories of them switching babysitting nights with some friends every week, so each couple got a date night every other week. Bonus, it was fun or us kids because we got to hang out with friends.
As we got older, they would leave us home on Saturday mornings, go for a long walk, and sometimes add in a breakfast date. It was essential for their communication and keeping their relationship strong. Never fear if you're stumped on making date night happen without breaking the bank! Here are 10 budget-friendly date night ideas for parents that will help you reconnect with your partner without putting a dent in your finances.
*This post contains affiliate links. I earn a small commission at no extra cost when you shop using these links.
Have a movie night
Having a movie night is a very affordable date night idea for parents. You can choose a movie on a streaming service like Netflix, HBO Max, or Amazon Prime Video. The other option is cheaply renting a movie from Redbox, Amazon Prime Video, or Vudu. Jeremiah and I created a list of our top 10 movies we want the other person to watch, and we are working through them. You can also create a list together. You can either snuggle up on the couch or get cozy on the floor with pillows, blankets, cushions, or whatever else you need! Create a romantic ambiance with some candles or lights. Grab the popcorn and your favorite snacks, or cook a simple meal together.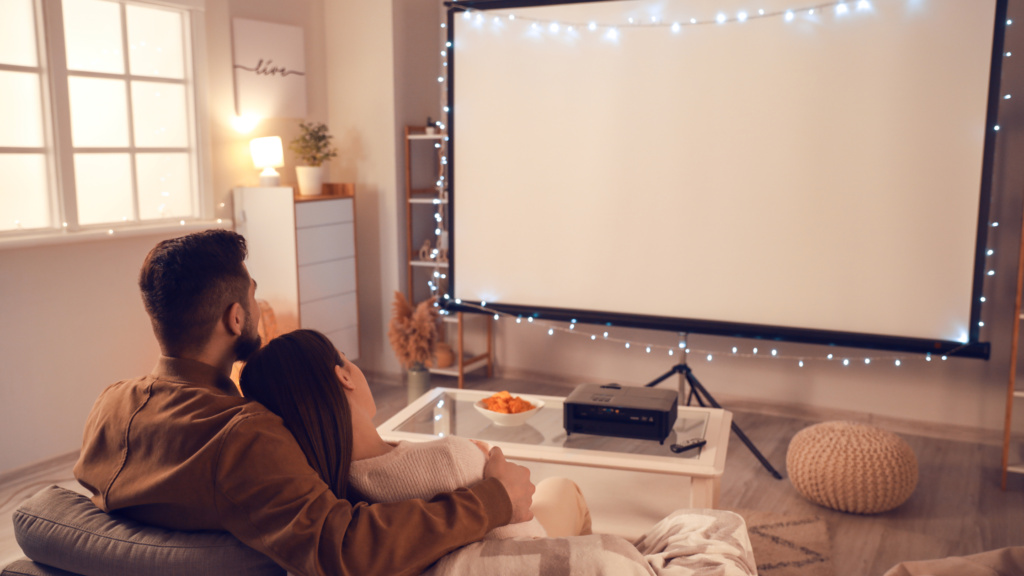 Have a game night
A game night is a great way to connect and have some laughs with your spouse (unless you and your partner are too competitive, in that case, stick to the more neutral ideas on this list!) The nice thing about a game night is it allows more connection and conversation than a movie would. Hopefully, you have some games on hand that you enjoy playing. You could also do a game swap with friends or play a game with a deck of cards! Check out this Amazon list of my favorite games to play.
Cook a meal together.
Cooking a meal together an be a great way to bond with your partner. Cook one of your favorite dishes or create a list of new recipes you would like to try. You could even make it a game where you flip to a page in a cookbook you already own, point to a page, and that's the recipe you make! Set the table, light candles, turn on some nice music, and savor your dinner together! You could add something like '20 questions' or 'Would You Rather' to your date night for fun conversation and to possibly learn something new about your spouse!
Have a bonfire
Depending on the season and where you live, a bonfire can also be added to your budget-friendly date night ideas for parents. You can build a fire in a wood fire pit, use a propane fire pit or have a fire indoors if you have a fireplace. You can purchase the portable wood fire pits that can be used on your driveway for under $50. We purchased one off one of the garage sale pages on Facebook for about $20, and I used black Rustoleum High Heat Spray Paint to spruce it up!
Around the bonfire, you can roast marshmallows or even cook a whole meal! Otherwise, relax, talk, and enjoy each other's company. Look at the stars if it's a clear night. You could add the games I mentioned above, like '20 Questions' or 'Would You Rather,' to get the conversation flowing.
Go for a walk or hike.
As I mentioned in the introduction, my parents loved to go on walks together and started a tradition of Saturday morning walks. Getting outdoors, being active, and having good conversations are healthy ways to spend time together. If your kids aren't old enough to be left home alone, you can still incorporate this while pushing them in a stroller or letting them ride bikes.
Hiking is another great affordable date option. Discover new trails in your area and enjoy the outdoors. I've had the opportunity to discover some new trails over the past few years, and I'm blown away by the beautiful views and peaceful trails that were so close to me, and I had no idea. You could even pack a picnic lunch to have on your hike. There are most likely free trails in your area otherwise, State Parks may have a small daily fee for visiting. Yearly State Park passes are a great thing to ask for as a Christmas gift for the family.
Go out for dessert
Going out somewhere special for dessert is an excellent way to go on a date with your spouse but not spend a ton of money. You can have dinner together at home, whether you go all out or make something simple. Then find a specific dessert place, a restaurant with great desserts or just pick up some ice cream and take it to a park!
Look on Groupon
Groupon is another great way to find affordable date night ideas. Jeremiah and I have use Groupon for everything from bowling and massages, to boat rides and dinner. When you search on Groupon, you can search all sorts of categories including Things to Do, Beauty and Spas, Food and Drink and TIckets and Events. You can find deals on things to do with your spouse for as much as 80% off.
Go for a picnic
Pack up a lunch from home or pick up an easy to go meal from the grocery store. Bring a blanket or find a picnic table at local park area or a state park. I like to go to park areas near a river or a lake because they typically have peaceful areas with great views. Of course if you live near the mountains you should definitely consider that option as well! Turn your phones on silent and spend some time just focusing on one on one time with your partner.
Go backyard camping
Here's another fun one you can do even when you don't have a babysitter depending on the age of your kids. Set up a tent or even just an air mattress in the backyard. Have a bonfire, look at the stars, unplug and just have a romantic evening together!
Trade babysitting
One of the most expensive parts about having a date night as parents can be hiring a babysitter. As I mentioned at the beginning of this blog post, I have very fond memories of my parents trading off babysitting with good family friends growing up. Find some friends with similar ages of children to your own and take turns watching each other kids so you can each have a date night. My parents and their friends had a set night every Wednesday. One week we would go to their house and my parents would have a date while the next week they would come to our house while their parents went on a date. It was a win-win since the babysitting was free and we loved getting to play with our friends each week. In fact we hated when we had to go home at the end of the night!
Hopefully you found some of the 10 budget-friendly date night ideas for parents helpful. Dating your spouse is so important to keep your marriage strong in the thick of parenting. One day your kids are going to grow up and go off to college and start their own lives as adults. You need to make sure you don't stop dating your spouse in the years in between. But you shouldn't need to strain your budget to do it, especially with all the expenses of kids! If you try one of these ideas I would love to hear it! Find me on Instagram or join my private Facebook group.