Whether you are shopping for your boyfriend, fiance, husband, brother, dad or son here is a list of many different cool gifts for guys! From romantic to practical and everything in between. Hopefully you find something for the man in your life!
Don't forget to use Rakuten when you are shopping this season. It is so easy and you can earn legit cash back on all your purchases at participating retailers. When you sign up through the link and spend $30 you will get $30 bonus cash back on top of whatever other cash back you've earned!
*This post may contain affiliate links. I earn a small commission when you purchase through these links at no extra cost to you!
Gift Guide for Him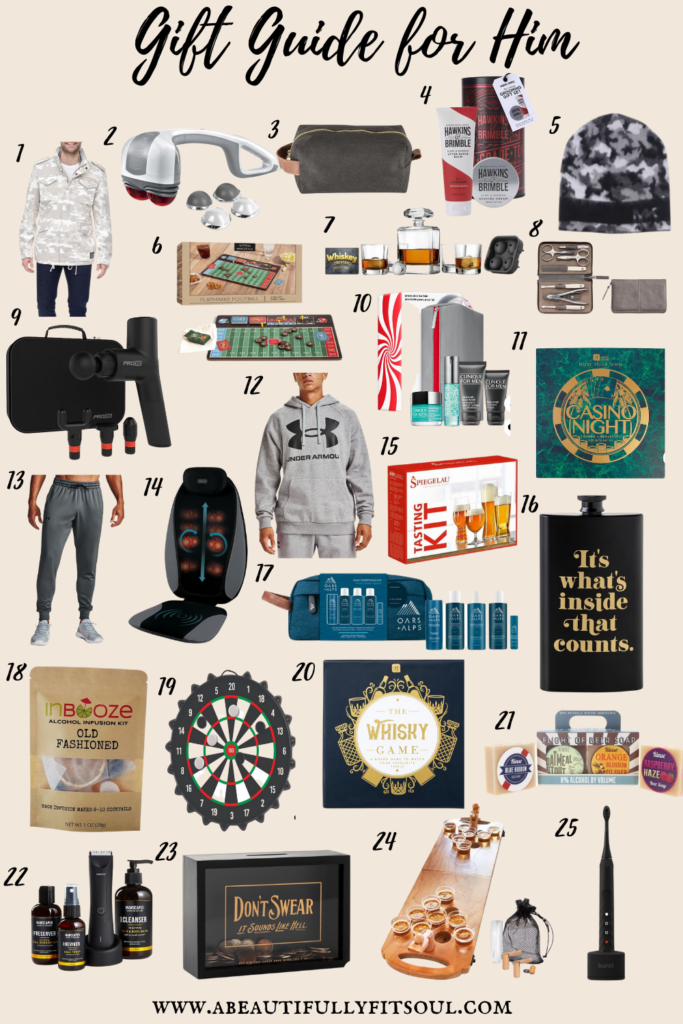 More Ideas
Brumate carries some of my favorite products in recent years that also make excellent gifts for both women and men! They have a huge assortment of beer, wine and cocktail coolers. They are extremely high quality and I can attest they keep your drinks cold for hours (if not days when you accidentally forget about one!) I love the variety of colors and designs they offer. You are sure to find something for any of the men in your life.
I first bought a Man Crate as a Christmas gift for my dad a few years ago. I bought him the personalized whiskey glass set and he absolutely loved it. They have a wide range of gift sets for everything from hunters, to grillers, to beer enthusiasts, to sports fans just to name a few. Some of the gifts also come in a crate (hence the name) with a crowbar to open it. I've now also bought a grilling one for my dad and a hot sauce one for my now fiance. Definitely one of my go-to cool gifts for guys.
  


                    
                    
                


            
This is more of a romantic gift but could also be for your dad or something like that. I recently got this for my fiance for his birthday and he absolutely loved it. It was fun to go through and choose the quotes and the photos and is something he will be able to look at for years!
Amazon Cool Gifts for Guys
Here are some of my cool gift for guys ideas from Amazon, you can also view all of my Amazon gift idea lists here. The first couple gifts I did get for my fiance for Christmas, he loves both meaningful/romantic and practical gifts. I love the bar set idea especially as my fiance loves to entertain. If any of the men in your life are rocking the facial hair, a beard trimming and grooming kit can be a great idea. My fiance is absolutely obsessed with seasonings, spices and sauces so I loved this grilling set of seasonings.
The personalized wooden phone docking station for holding wallet, keys, watch and anything else they may find in their pockets while also charging their phone is perfect! A pair of bluetooth wireless headphones whether on ear or in ear is also a great idea. Both of the ones I have linked are ones we have purchased and loved. The MPOW headphones have been a great affordable option that have worked well for our family. The kids have received the Raycon earbuds and those also work great! Last but not least, my fiance and I love to play cribbage so I actually got him a wood board in the shape of Minnesota from Etsy for Christmas but I also loved this black one on Amazon. The metal pegs are awesome!
Gift Guide for Young Men
Here are some gift ideas for teenage guys, preteen boys or possibly even young adults and college age kids!
I hope you found something helpful in this cool gifts for guys gift guide! Also check out my
Feel free to connect and chat with me on Instagram if you have any questions!