I am now fully surrounded by tweens and teens! Our blended family has a 15 year old, two 13 year olds and an 12 year old half of the time, plus a 19 year old in college. So far the tween-ager stage hasn't been too awful. Most of the time it's fun to see them start to assert their independence and act like they have more responsibility with their age! Sometimes I feel like the older my girls get the harder it is to buy gifts for them. I know they always love gift cards to pick out their own things. I also want to make sure I have some fun things wrapped and ready to open for her. Whether you have a tween girl in your house or you are flying blind and wondering what tweens are interested in. Check out the following preteen girl gift guide for some ideas! Here are a few items I gotten for them that were a huge hit and also a few more ideas I added to the list for future gift ideas!
*This post contains affiliate links, I earn a small commission at no extra cost to you when you shop using these links.
*Links and sold out products updated 9/21/22.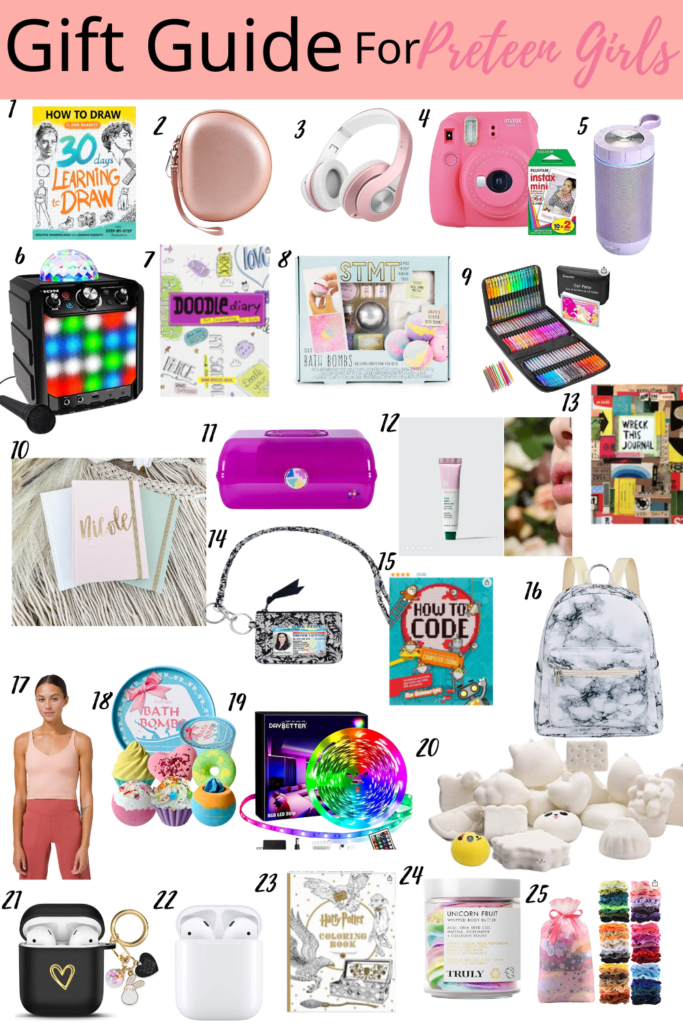 Don't forget to use Rakuten Cash Back when you are shopping this season. It is so easy and you can earn legit cash back on all your purchases at participating retailers. When you sign up through the link and spend $30 at qualifying retailers you will get $30 bonus cash back on top of whatever other cash back you've earned!
If you want a little help keeping track of your gift-giving this year, here is a free gift tracker printable to keep you organized!
I'm not sure about you but my tweens are starting to be obsessed with makeup. They don't wear it often and they don't wear it to school currently. Nonetheless, they love to have it and play with it! Apparently, the 80's/90's are coming back and Caboodles are back in style! The girls love having a place to store and organize their makeup. My other daughter who isn't as into makeup likes to use it just to keep her self-care products like deodorant, hair brush, hair ties, etc. It's easily portable between my house and their other parents whenever they want to! This makes a great Christmas or birthday gift for a tween girl.
Another must for any preteen girl gift guide is a set of good headphones. We actually got these headphones for both of our girls a couple of Christmas's ago and I absolutely love them. I even ended up getting a pair for myself. At $39.99 they are pretty affordable compared to other wireless options and they are very durable as well. We've gone through a lot of headphones over the years and is usually always the cord that causes the headphones to go first.
If you do come upon a situation where you need a cord (such as plugging into the screens on airplanes or if you forgot to charge them) they do come with a cord that can be used in those situations! The headphones come with a pouch for storage but we chose to buy this separate case that fits the headphones and any of the accompanying cords perfectly. The girls take this case with us any time we travel!
We definitely got to the point in recent years where the girls were ready to move on from their kid scooters they've had for years. These scooters have larger wheels and a higher weight limit. The girls have loved riding them around the neighborhood. They can even ride them to the middle school when they want to. This model comes with a hand brake as well as the foot brake. Being that we live in Minnesota this would make a better birthday present for a tween because most of our birthdays are in the warmer months!
Depending on your tween, these gifts for tweens can be a huge hit. My daughter loves art, drawing, and of course her gel pens. Coloring is so great for calming down and relaxing besides watching YouTube videos on her iPad.
If you are looking for a more unique gift for a teenage or tweenage girl, my daughters have both asked for and loved the Wreck This Journal. A good friend of mine has said it's one of her go-to gifts for this age group! Here is a description from Amazon. "In this world full of anxiety, stress, and depression people forget to smile and that's the exact reason to create this journal, we want people to smile and be happy. We created this journal to do all those things which the world will tell you not to do, Things like – throwing this journal out of the window, frying it in the pan, crumbling it into pieces, beating it with a stick – just for the sake of that little moment of happiness. Believe it or not we all enjoy destroying things and that's the principle behind this journal."
Unfortunately I have one of those 12 year olds who acts as if I'm asking her to jump off a bridge every time I tell her to shower. As we all know 12 years old is prime time to be needing to shower more often! Anyway this seemed like a great gift to make showering a little more fun with music she loves! The first one is one we've used before and has a suction cup to attach to your shower wall and easily connects to any Bluetooth device. You can adjust the volume and skip songs right from the speaker while you're showering!
Although my daughter typically acts as if she's getting teeth pulled when forced to take a shower, I can usually always convince her to take a relaxing bath with a bath bomb. Bath bombs add a little fun, color and wonderful scents to your bath and are great for any pre-teen girl!
This one is a little more expensive but it is definitely on my wish list! I first learned about it from Jordan Page over at Fun Cheap or Free, her family uses it constantly. My daughter loves singing and I think this would be a great gift. With the party light and the microphone, this would be great for parties, sleepovers, or just fun with the family! I've updated the list with some more affordable options as well.
Of course there are always clothes for preteen girls! Both of my girls are much more into their clothing and style now and although some styles I don't understand of course there are still lots of cute things out there. Lululemon, of course, is all the rage with teen girls if that is in your budget absolutely go for it. I have also linked some best-selling Amazon Lulu dupes for a more reasonably priced option. A lot of the items I have listed have been on my daughters wishlists at one time or another!
This is also on my wish list! A super soft comfy bean bag chair for the bed room or tv room. I've been working on setting up an area for the girls to be able to go and hang out because our townhouse can start to feel very small at times when we're all on top of each other. These would make a great addition to that room!
If you are looking for more tween gift ideas you can go shop my Amazon idea lists for my artsy girly girl teen or my sporty tomboy tween.
Other Gift Guides:
You can also view:
For more ideas!
I hope this preteen girl gift guide was helpful and you found some great ideas! Subscribe to A Beautifully Fit Soul today for more tips and ideas!