Here is a small business shopping guide with some of my personal favorites both local and nationwide! These are businesses you can definitely support all year long but this holiday season is a great time so discover some new small businesses to support! Happy Shopping!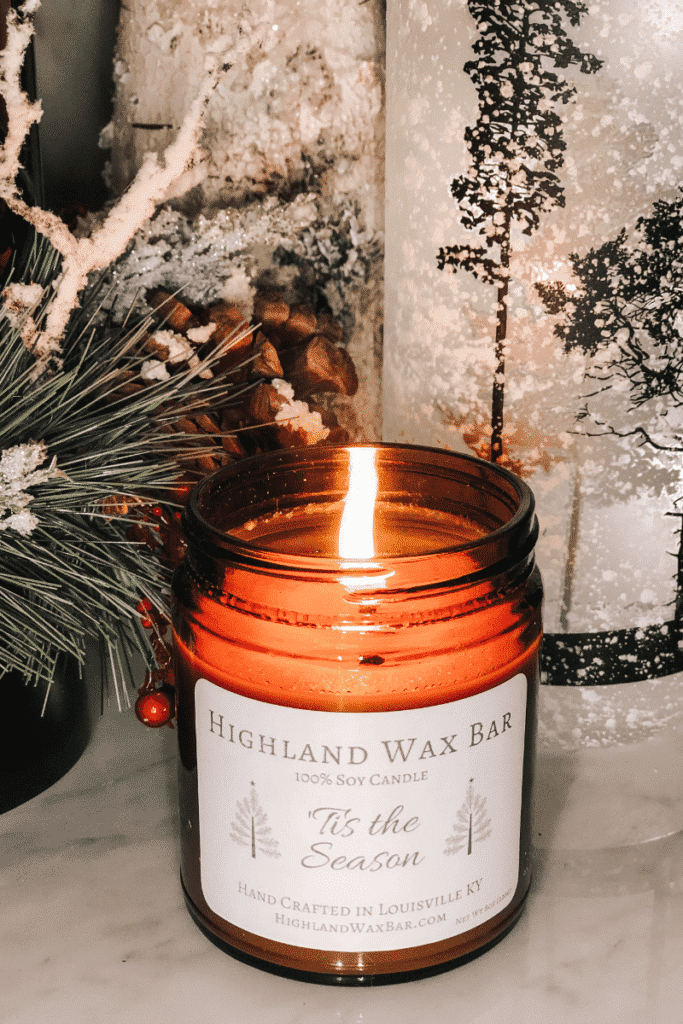 Firstly we have Highland Wax Bar which is a candle company based out of Louisville, KY owned and operated by a husband and wife team. They offer candles and wax melts for wholesale and retail. I had the opportunity to try out their candles last holiday season and have really enjoyed all the scents. If you are local to them they also offer candle pouring classes when there isn't a pandemic!
Secondly, Karma Stacks is local to Minnesota and was created by Jeanna after she was diagnosed with colon cancer in 2016. She uses high quality stones and each type of stone has a meaning. There are pre-made bracelets and necklaces on her website, in addition you can have something custom made. For instance, she made a bracelet to remember my dad who was lost to pancreatic cancer and it is absolutely beautiful. The stones she chose and their meanings perfectly represented how I feel about my dad! This would be an amazing meaningful gift for someone.
The Wishing Elephant was created and is owned by my amazing cousin Carolyn! What started as making onesies at her kitchen table has grown into a thriving business of adorable kids clothing! From tees to sweatshirts to leos, you are guaranteed to find something perfect for the littles in your life!
Lemon Creek and Company is a boutique that I've been getting most of my new clothes from recently! I originally connected with Jenica one of the owners through Red Aspen and she is awesome! The currently only have a Facebook group and Instagram but if you are on Facebook or Instagram I highly recommend joining the group so you can keep updated on all the adorable clothes they offer!
Ricki and Sons is a local family owned business specializing in mostly custom metal projects. When I first saw one of the lake signs they make I was immediately hooked and I dreamed of having one on my favorite lake Sunapee someday. However, my kids and ex-husband surprised me with just that on my last birthday so my wish was quickly fulfilled! In addition, they have a wide range of cool pre-made items available or they can work with you on a custom project!
SeeNew Skincare is a subscription skincare box that focuses on smaller green beauty brands to bring you bi-monthly or quarterly luxury skincare. With this in mind each box focuses on a different brand and gives you 5 high quality skincare products. Consequently these boxes have definitely brought my skincare to the next level and would make a great gift! In addition, you can use the code COURTNEYB20 for 20% off of your first box!
Minnesota Beanies is a local business with handmade beanies. She currently only has an Instagram page and Facebook page but you can contact her for custom orders or to see what she currently has on hand!
Homestead House was originally started by my Aunt Kristl out in Portland, OR. It has since been taken over by a new owner, however, it continues to carry the same mission and products. These handmade, small batch, home products are made with high quality ingredients, essential oils and phthalate-free fragrances. They offer cleaners, room sprays, candles and soaps currently. I have loved the clean fresh scents that I can always feel good about using in my home!
Sota Clothing is a new addiction of mine thanks to my boyfriend introducing me! This local company has everything you need for gifts for the holidays, from hats to sweaters to wine glasses and even cribbage boards. We loved exploring the shop in St. Louis Park on Small Business Saturday but you can also shop their website. They literally have something for everyone!
Willow Farm Decor is a local Minnesota company owned by a friend I went to college with! Her adorable shop is bursting with decor, gift and clothing from mostly local makers. This shop is located in Maple Lake, MN and is open on select days each month so be sure to double check before you head that way. While you are there be sure to stop by Irish Blessings Coffeehouse next door for a warm drink and a treat!
Kendall and Blue Boutique was just introduced to me by my good friend Tiffany and has a location in Appleton, WI near where she lives. They have a wide range of adorable items and inventory is updated regularly. You're sure to always find something fresh and cute for gifts or to update your own wardrobe!
I hope you enjoyed this Small Business Shopping Guide with some of my favorites! All places I've listed are places I have direct experience with and my own personal opinions. Hopefully you can find some gifts or things for yourself to support these small businesses during this time!