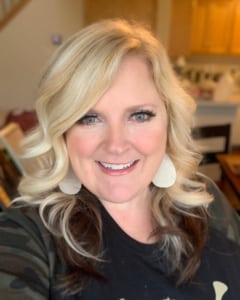 If you are not following Jasmine Rae and her hair tips already, you should be! I'm not sure how exactly I came across her account on Instagram, but I'm so glad I did. Aside from being super honest and hilarious, her hair is absolute goals. People constantly tell me they like it when I have short hair, but I love having long hair. My goal is mermaid's hair, but now that I've found Jasmine, the goal is definitely 'Jasmine Rae' hair.
*This post contains affiliate links; I earn a small commission when you shop using these links at no extra cost.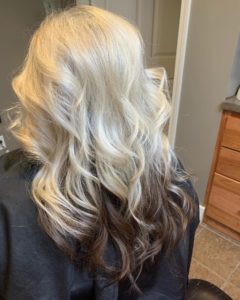 I always direct people to her page if they want to learn all the hair tips and tricks. She's got tons of information and has it all in highlight bubbles. It's nice to watch her videos as she explains and demonstrates everything. My favorite part is that it had nothing to do with running out and buying expensive products.. You can start right away with what you have. Some products are recommended and super helpful, but there are things to do daily to help your hair be healthier and stronger immediately! I just wanted to share the things I've been doing and using that I love.
Scalp Treatment
One of the main things Jasmine teaches us is how to go longer in between washes; this is healthier for your hair and will help it grow long and strong! The biggest key is taking care of your scalp. One way to do this is by doing a scalp treatment. Using a boar bristle brush, I first learned to break up any buildup on my scalp. I use one similar to this.
After I've broken up the buildup on my scalp, she teaches me to put the scalp treatment directly onto my scalp. I believe she uses the Invigorating Mint Cream Conditioner from L'ange. I haven't tried that yet, so I've been using Paul Mitchell Tea Tree Special Conditioner. To apply it to my scalp, I separate my hair into sections and paint it onto it using one of those brushes hair stylists use for applying hair color.
Once you have applied the conditioner to your scalp, let it sit for 20 minutes. Once you hop in the shower to rinse it out, Jasmine teaches how the most important thing is washing your scalp. She has an entire series in her highlight bubbles where she is in the shower (in her bathing suit, of course) showing you how to wash your scalp. Check that out for her shampoo recommendations. Not going to lie; I'm just currently trying to use up whatever I have. I do really like this tool, though, for cleaning and massaging my scalp.
Hair Brushes
The other important thing she teaches is the hairbrushes you are using. I already used and swore by Wet Brushes before finding her, so I'm happy to know I was on the right track! I want to try the L'ange version that she helped create (I believe) and swears by. The Wet Brushes are good because the bristles are so flexible and don't break your hair. They are also excellent if you have daughters and have hair-brushing battles. The brush with boar bristles is essential for brushing your scalp in the morning and the evening. This breaks up any buildup on your scalp so your hair follicles can breathe and grow healthy strands of hair!
Dry Shampoo
A few other essential items that help you go longer in between washes is a good dry shampoo. Jasmine teaches you to use the dry shampoo on your scalp before bed, and you wake up with non-greasy hair! I've tried a few different ones: Batiste, Living Proof, and MoroccanOil. I haven't noticed huge differences between them. In my opinion, they all work! However, my hairstylist recently told me she prefers Living Proof for the smell, but the MoroccanOil is better if you're super oily!
Shower Cap
Going a while between washes does not mean you don't shower because gross! So it would be best if you got yourself a good shower cap. Jasmine introduced me to the terry cloth-lined shower caps. They keep your hair nice and dry while you shower!
Styling
The last thing that has helped me go longer between washes is finally being able to style it in a way that lasts multiple days. This also reduces the heat damage to my hair! My hair never used to stay curled for more than a few hours, if that. After learning about the Titanium Ondule wand from L'ange, I can now leave my hair styled for days!
It's essential to use a heat protectant spray; I will list some options below. Check the L'ange website or sign up for their emails because they regularly have huge product sales! The last significant step is putting my hair into a ponytail before bed with spiral hair ties or a silk scrunchy, so I am not sleeping on my curls and flattening them. I've recently learned this worked for my straightened hair as well (not sure what took me so long!) Keeping it up is better for your hair in the long run! Also, sleeping with a silk pillowcase is excellent as well!
She has many more tips and tricks, so I recommend following her and checking out her videos and highlighting bubbles! Also, you can see what kind of hair goals I'm talking about! I will link her Facebook and Instagram pages below.
instagram.com/jasmineraehairco
My Current Routine – Updated
Ok, I have completely updated my entire routine. I've tried out some different recommendations, and here is what I am doing.
Daily
Hair oil to ends (usually at night before bed), either Olaplex No. 7 Bonding Oil or Hask Argan Oil Repairing Shine Hair Oil. Then I typically put my hair up in a bun or a ponytail with a silk scrunchie.
Before washing
I don't do this routine every time I wash my hair because who has time for that? I try to do it about once a month! At a minimum, I try to do the scalp oil before washing every time, but I am extremely dry. So I apply oil to my scalp the night before or the day after. I've been using The Mane Choice Hair Growth Oil. Before washing, I apply a scalp scrub and massage into my scalp, currently using TPH by Taraji Never Salty Sugar Hair & Scalp Scrub. Then I get my hair damp but don't worry about washing out the scrub yet and apply Olaplex NO. 3 Hair Perfector. I let everything sit for about 20 minutes.
During Wash
Shampoo – Occasionally, I use a purple shampoo and conditioner for my blonde. When I do that, I love the Redken Color Extend Blondage Color Depositing Purple Shampoo & Conditioner. Then I like to alternate between Olaplex No. 4 Bonding Shampoo and SheaMoisture Curl and Shine Coconut Shampoo for Curly Hair Coconut and Hibiscus (spoiler alert, you don't have to have curly hair to use this product, and it is SO moisturizing.) I will still follow up with one of these moisturizing shampoos because I need the moisture.
Conditioning – Then I like to alternate between Olaplex No. 5 Conditioner or SheaMoisture Restorative Conditioner for Dry Damaged Hair Raw Shea Butter; when I do the purple shampoo, I use the purple conditioner as well. I also like to use a hair mask at least once a month. Currently, I am using the Kerastase Nutritive Masque for Dry Thick Hair; I will apply this and let it sit while I shave my legs, wash my body, etc.
After Wash
When I get out of the shower, I gently wrap my hair in an old soft cotton tank top or t-shirt. I don't twist it too much; I gently set all the hair on top of my head to absorb water while I lotion my body. A regular towel is too rough on my hair, but I don't like not to use anything. You can try something like this Microfiber Hair towel, but my old tank top works great for me!
Then I spray my hair with a detangling spray like Drybar Prep Rally Prime & Prep Detangler. Instead of the Wet Brush, I gently use a wide tooth comb to detangle my hair. Then I apply a leave-in conditioner, either SheaMoisture Smoothie Curl Enhancing Cream for Thick Curly Hair Coconut and Hibiscus (this stuff smells SO good) or Cantu Argan Oil Leave-In Conditioning Repair Cream, then follow it up with my hair oil!
Then I try to let it air dry, and no heat!! I've been attempting some no-heat curls, which went well, and I also want to try the Bunny Blowout; otherwise, I just let it go!
L'ange and Jasmine Rae
L'ange and Jasmine Rae have now worked together to create a line of hair training products to help you in your hair training journey. You can buy the set of all three products or each item individually. Step 1 is a lightweight waterless refresher that refreshes hair and scalp and removes light buildup. Step 2 is a powerful waterless cleanser with maximum oil and odor absorption. Finally, step 3 is a nourishing waterless hydrator. Check out these L'ange hair training products if you want to go longer between washes!

Previous Products I used.
These are the products I use post-shower. My hair has never been softer and more healthy feeling than it is now!
For more amazing things I learned from Jasmine, check out my post on the best tips for applying press on nails!