I first thought about how to redecorate your home on a budget because I spent a lot of years living in a house that was very overwhelming and hard to relax in. First off there is absolutely zero shame if you struggle to keep your house clean and organized or if it doesn't look Pinterest perfect. I am lucky to have found a partner who enjoys keeping our house more clean, does a lot of the work, encourages me and has never one time made me feel embarassed when I struggle.
Although the kids may disagree we are doing our best to teach them how to keep things clean so maybe they won't struggle as much in adulthood as I have. Now that I know how truly amazing it is to have a clean home that you can actually relax in I hope to help others find that same peace. I also spent a lot of years buying things for myself and my home thinking that I would find joy from those things and putting myself into debt. My struggle with finances has been a huge source of embarassment to me over the years.
I wanted to create this post because I think there are a lot of ways you can spruce up your home, make it feel more your own or give it a new look without breaking the bank or going into debt like I often did. Hopefully you find these tips useful!
*THIS POST CONTAINS AFFILIATE LINKS, I EARN A SMALL COMMISSION AT NO EXTRA COST TO YOU WHEN YOU SHOP USING THESE LINKS.
Paint an Accent Wall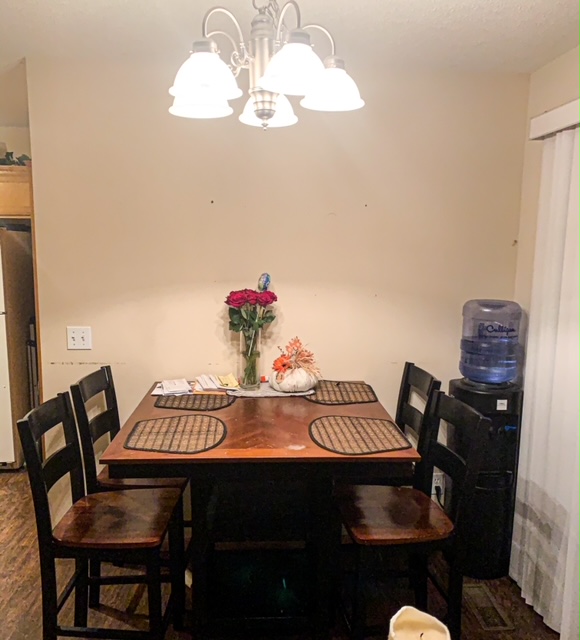 Painting an accent wall is a great way to update your home! Depending on the size of your wall you can get away with one gallon of paint for around $20! My fiance did this wall in our townhouse and hung up some things he already had plus a few things from Hobby Lobby.
Set Up Sales Alerts on Shopstyle
Shopstyle is a website or app where you can look for products from tons of your favorite stores. From fashion to home goods and more. You can choose to get sales alerts on specific items that you are interested in. Most of the carousels and links to products I share are through shopstyle!
Shop on Craigslist and Facebook Marketplace
My fiance and I have gotten some amazing deals for our home through Craigslist and Facebook Marketplace. We were able to get really nice couches for cheap or free, desks, decorative items and so much more. Especially on Facebook you can set up alerts for specific items that you are on the hunt for. I got this super cute desk that I now use as my makeup table for $50!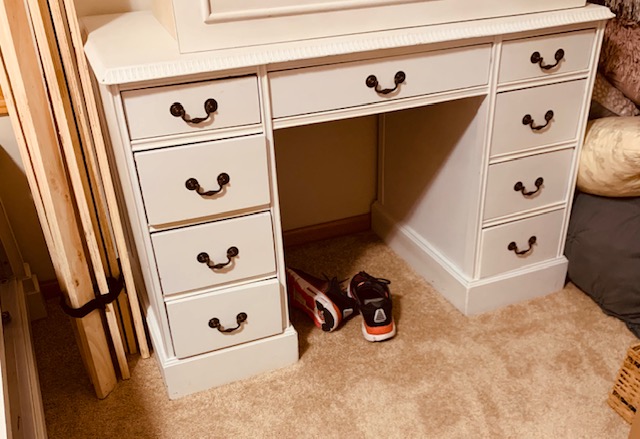 Get a Slipcover for your Sofa
If you're not yet in the market for a new couch but want to give it a new look you can get a slipcover to freshen it up and make it look new! Some of the affordable places I found to get them were Wayfair, Couch Skins, and Overstock.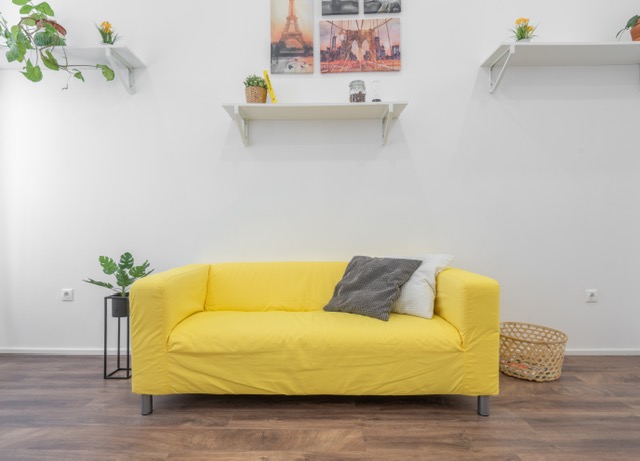 Declutter Your Home
Getting rid of clutter in your home is always an easy win for giving your home a fresh feel. I'm the first one to admit I've had WAY too much stuff in my home for a long time. When we moved we were able to declutter some of it but we definitely have more we could do.
I love the tip I learned from Fly Lady about getting 3 baskets, Trash, Giveaway, and Keep. Pick one drawer or specific area and set a timer (I personally like to do about 15 minutes to start). Just go through that area putting things in those specific baskets. Once the timer is up you can empty the baskets where they need to go. Get rid of the trash, take the giveaway items to Salvation Army, Goodwill or schedule a pickup from an organization accepting donations and put all of the items you are keeping away. As someone who struggles with adult ADHD I've often struggled with being organized and keeping my home decluttered. Be sure to check out my 5 Tips for Being More Productive with ADD.
Hang Prints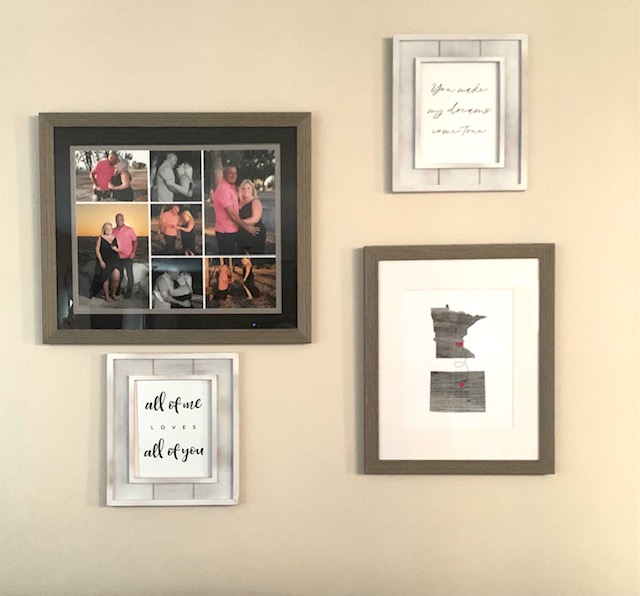 You can find pictures you love that you have taken yourself or various prints and downloads from places like Etsy! Find inexpensive frames at Thrift Stores, garage sale sites or places like Home Goods, Michaels or Hobby Lobby. We got a collage of our engagement photos printed out and framed and then the rest of the prints were from Etsy which we then found frames for! Hanging a few pictures on the wall definitely gives your space a more homey feel.
Get New Covers for your Throw Pillows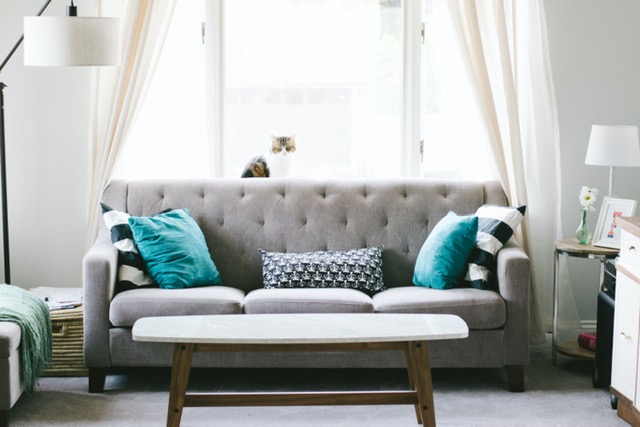 You can totally change the look of your living room with some cute new covers for your throw pillows. Use these to update your style for the various seasons or just change up your look periodically. You can get sets of 4 throw pillow covers for around $25 on Amazon, just make sure you are ordering the right size!
Download Apps like OfferUp
OfferUp is a buying and selling app like similar to what you would get on FB Marketplace or Craigslist. Look on there for items to refresh your home at a fraction of the price. The nice thing about OfferUp is buyers and sellers have more ratings and accountability on this app so I feel like you are little more protected than some of the negative experiences that can happen on Facebook or craigslist.
Buy Fresh Flowers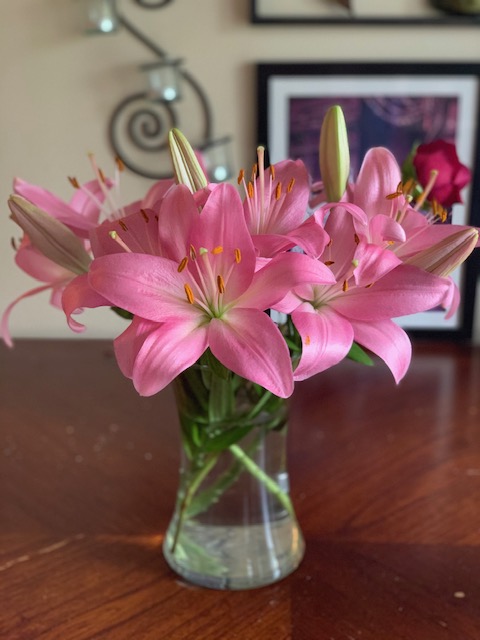 Fresh flowers are always a quick win to brighten up your kitchen, living room or even your bedroom! Look for deals at your local grocery store, flower shop or even farmer's market. If you keep the water clean and fresh and give the flowers some sunlight they can even last up to a couple weeks. If you have a green thumb (unlike me) you can pick up some live plants as well decorate your space. Better yet, buy some fake plants or flowers at places like Michaels and put them in repurposed jars or other decorative peices around your house. You can find items like this at all of the places I have previously mentioned!
Change Up Your Bedding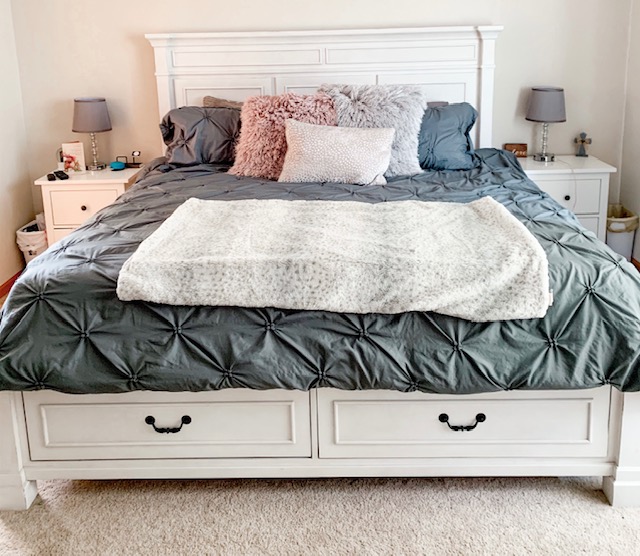 Changing up your bedding is another way to redecorate your home on a budget. You typically don't have to spend much to get a new duvet cover and you can apply the tip I mentioned earlier about getting some new covers for your throw pillows. My duvet cover was around $35 on Amazon and the throw pillows and blanket I got at HomeGoods. You can shop all of my home recommendations on my Amazon storefront.
Repurpose Glass Jars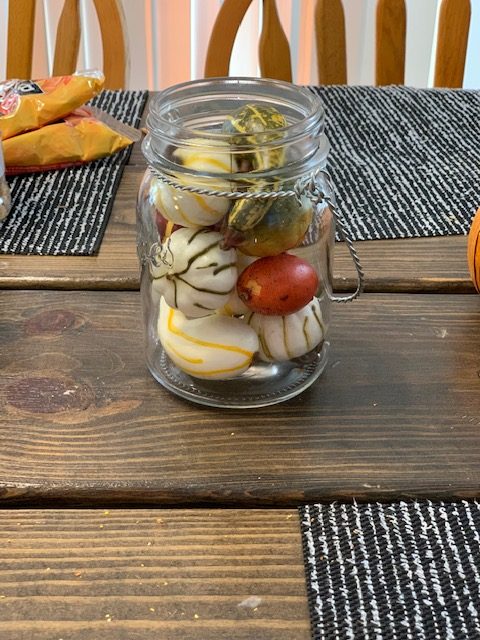 My final tip for redecorating your home on a budget is to repurpose glass jars. You can use jars you already have or pick them up at thrift stores, craft stores, home goods stores and more! Glass jars can be painted, hot glued or simply filled with various decorative items and/or flowers. Recently for fall decorating I found some small plastic gourds at Michaels while all Fall decor was 40% off. The gourds came to about 34 cents a peice and I filled some glass jars I already had on hand.
Ok I lied I do have one final tip! Whenever shopping I try to use Rakuten cash back as much as possible. If you shop through Rakuten you can get a percentage of cash back at participating retailers and it really can add up. Once a quarter they will mail you a check with whatever cashback you have earned and it is a nice way to get some real money back on items you were already planning to purchase! When you sign up through my referral link (or anyone elses) you get a bonus $30 cash back after your first qualifying purchase!
Hopefully you've found this post helpful! If you like these kinds of tips please sign up for my email list here! You can also join my VIP Facebook group or connect with me on Instagram. I would love to know if you try any of these or if you have any other tips you've found useful!