Red Aspen
Red Aspen is a direct sales company (or MLM) for full disclosure. I don't typically do direct sales but I did sign up under Jasmine (Jasmine Rae Hair Co) back in 2019 because I loved the products and wanted a discount. Truly their eyeshadow is the best I've ever tried. While I still continue to love their products I have enquired about switching to an affilliate only account (less comissions, no trying to sign people up, same as any other affiliate links I have) because I won't ever be trying to sign other people up under me. I will continue to praise the quality of the products though.
Have you ever wondered how to apply press on nails properly? Or more importantly how to apply press on nails to make them last longer? In this post I am going to teach you the best tips for applying press on nails to keep them from popping off but first I want to introduce you to nail dashes, the best press on nails around! Nail Dashes are press-on, salon quality manicure for a fraction of the price and time. The benefits of using them are:
Easy to apply
Non- damaging
Apply in minutes
Variety of shapes, lengths and finishes not easily achieved with polish, stickers or wraps. (Side note: Red Aspen nail dashes CAN be used in conjunction with nail wraps such as Color Street, nail dashes provide the length and strength, wraps add the extra colors and designs!)
Fraction of salon cost
Red Aspen Nail Dashes currently come in petite, short square, medium round, long coffin nail styles. So they cover the short press on nails and the long press on nails depending on your style. The petite nails are great for those with small nail beds or as press on nails for kids. My girls have loved the nail dashes and now as tweens/teens they can put them on by themselves. Almost all nail dashes can be clipped and filed to any shape or length you prefer.
Each box comes with 24 nails in a wide range of sizes to fit all nail sizes.
Below are my tips for how to put on Red Aspen nails but these tips will work for any press on nails that you have.
*THIS POST CONTAINS AFFILIATE LINKS, I EARN A SMALL COMMISSION AT NO EXTRA COST TO YOU WHEN YOU SHOP USING THESE LINKS.
How to Put on Red Aspen Nail Dashes
Step 1: Clean Your Nails and Push Back Cuticles
Best Tips for Applying Press On Nails
One of the first steps when you are wondering how to apply fake nails is to clean your nails of any leftover nail polish or nail glue. Then make sure to push back your cuticles. Each box of Red Aspen Nail Dashes comes with a full press on nail application kit which includes an orange stick and file so you have everything you need!
Step 2: Pick Out Your Nail Sizes
How to Make Press on Nails Look Real
One of the most important steps if you want your press on nails to look real is making sure you choose the appropriate size. Compared to some drugstore press on nails, Red Aspen nails are extremely thin and fit perfectly up to the cuticle which gives them a very natural look. Ensuring you have the correct size will make your press on nails last as long as possible. Each box of nail dashes comes with at least 24 nails so you are sure to find ones that fit your nails! Each nail has a number at the tip of it ranging from 0-9, 0 being the largest and 9 being the smallest. New nail dashes that are being released are including sizes 0-14 to reach even more nail bed sizes.
If you choose a nail that is too small or too large you will be more likely to have pop-offs. Lay your press-on nails out in the correct order so you don't get confused once you begin to apply them. Once you know the sizes that work best for you keep track of it for future applications! You can fill out the form below and I'll email you a download for keeping track of your nail sizes!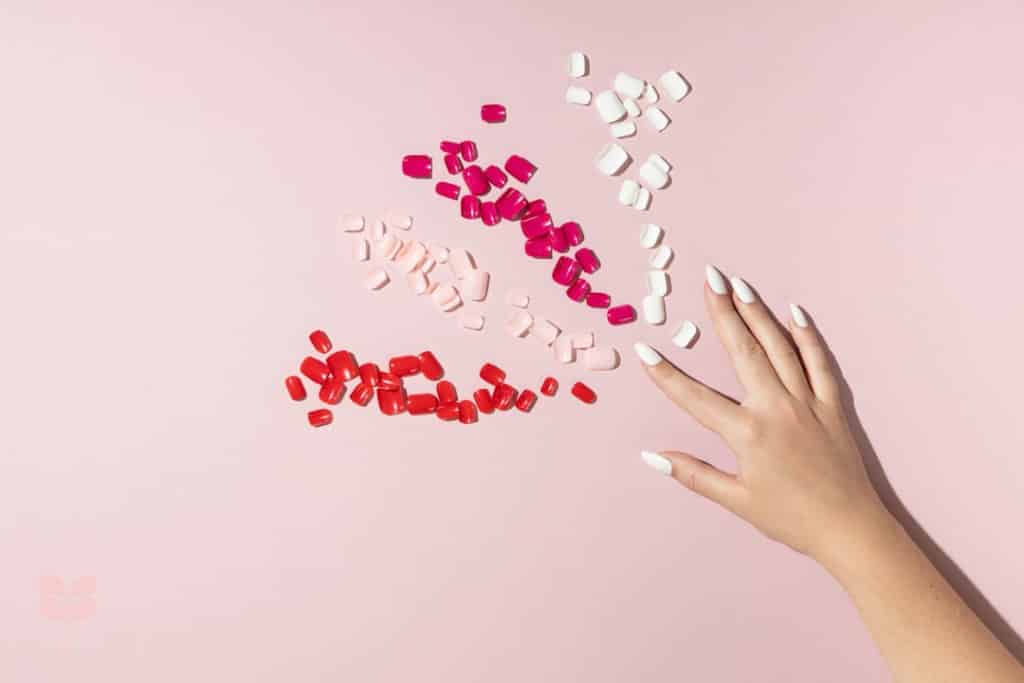 Step 3: Buff Your Nails
How To Make Press On Nails Last Longer
The next step is to take the enclosed file and gently buff each nail to rough up the surface. This will help the nail and glue adhere better therefore reducing the likelihood of pop-offs! This will make your nails dashes last much longer.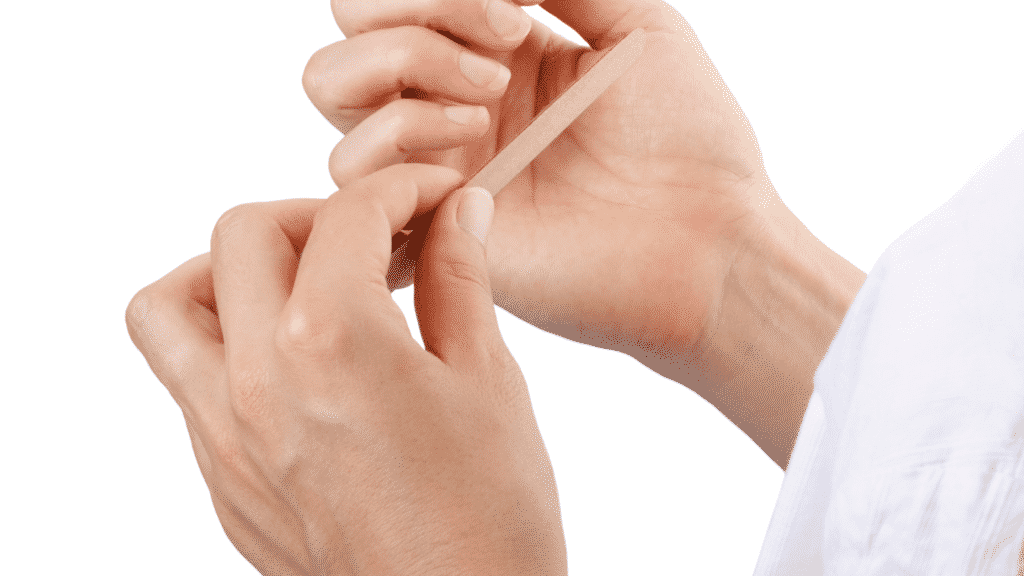 Step 4: Clean Your Nails With Rubbing Alcohol
How To Apply Press On Nails Properly
The last step before actually applying the nails is to clean each nail with rubbing alcohol. You want to dry out the natural nail and make sure there is not moisture. If you leave moisture on the nail bed you can end up with green nails once you go to take them off. This does not last but better just to avoid it all together! I like to keep these rubbing alcohol wipes on hand because they are so easy to carry with you and store with your nail dashes. Be sure your nails are nice and dry before you begin application!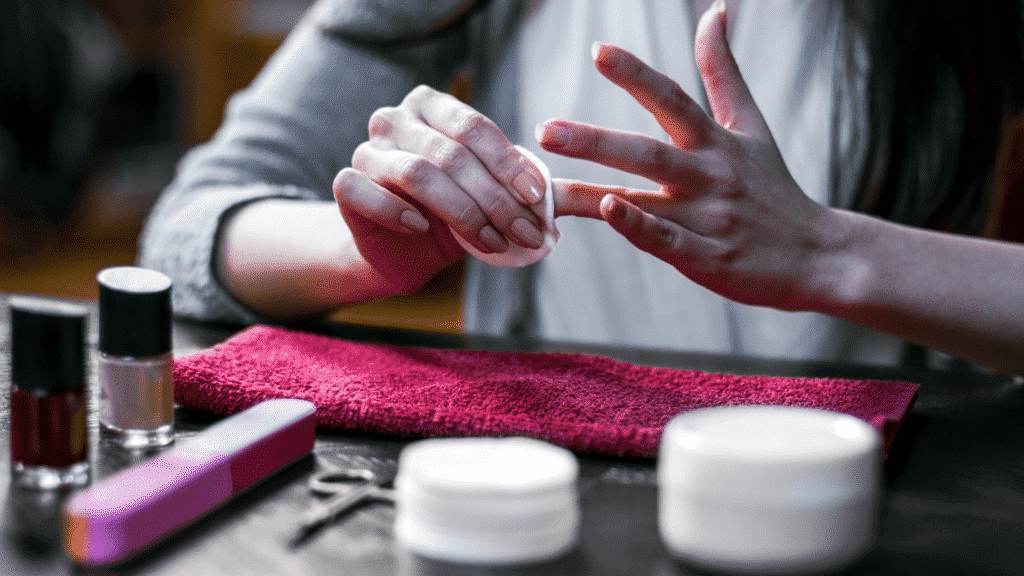 Step 5: Apply Dashes
Now its time to put them on! I like to start with the pinky on each nail and move inward ending with my thumbs. First apply a thin layer of nail glue to your natural nail and to the nail dash. I like to take the tip of the glue and spread it evenly across the entire nail. If you are wanting to wear the nails for less time only use a small dot of glue in the middle of the nail! Red Aspen now has a brush on nail glue that you apply like a nail polish. It is life changing compared to the other glue application process.
When you go to apply the nail the number side will go towards the tip of the nail away from the cuticle. Often people have made the mistake of applying the nails upside down which will definitely make them pop off sooner. The thinner side of the nail definitely goes near the cuticle.
Apply the nail at a 45 degree angle and then press the nail on firmly and hold for 30 seconds. I like to make sure no excess glue has come out or gotten on my finger before I press down to hard so as not to get glue on the top of the nail. If you do feel like excess glue is squeezing out, I grab my rubbing alcohol wipe and wipe it off quick. Repeat until all of your nails are on!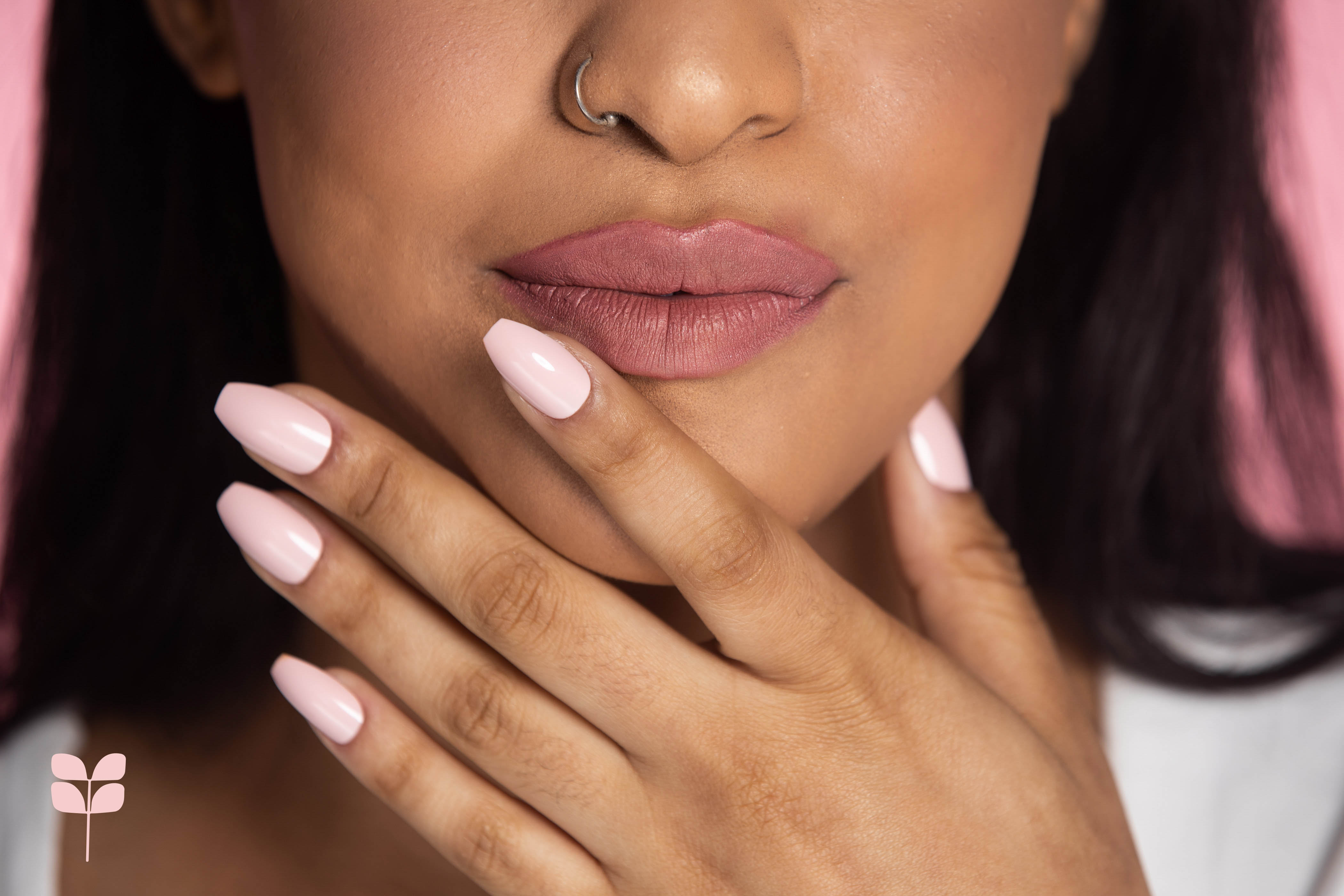 Step 6: Trim or File Nails to Desired Shape (if needed)
At this point you are ready to rock your amazing new at home manicure! If you prefer a different shape or size than what you applied, the amazing thing is you have the power to change that! You can either use the enclosed file to file them down shorter or if you have a lot of length to take off you can clip them with nail clipper and then file them! You can use a regular nail file or use can use a salon style acrylic nail clipper which I think is great for getting an easier cut across the nail.
Red Aspen Brush On Nail Glue
As I mentioned above Red Aspen has come out with a brush on nail glue that makes applying press on nails way easier. The original glue tubes could get really messy, glue comes out too fast or too slow, and the glue eventually dries up at the top making it hard to reuse. The worst thing is having excess glue come out and then get it on top of the nail ruining the finish. Once it dries it is very hard to get off which is why the nails stay so well! The brush on nail glue comes in a nail polish like bottle and comes with 7g of adhesive. The application brush gives you way more control over applying the glue and then you can seal the lid tight to prevent the glue from coming out. Definitely a must have.
Red Aspen Nails vs. Color Street
In my opinion comparing Red Aspen to Color Street is like comparing apples to oranges. The two products do completely different things so it depends on what you are looking for. As I stated above they can even be used together.
Red Aspen Nails are going to be best if you are looking to add some length to your nails. I have extremely weak nails that are always breaking and I can never grow them out so nail dashes are great in that situation.
Color Street are nail polish strips that make doing your nails quick and easy, with no worry about chipping or smudging your polish within moments of applying. They have TONS of designs and colors and they just apply right to your natural nail. So if you already have strong natural nails and you love the length, Color Street is a great way to go. Also with Color Street you don't have to be concerened about a nail popping off.
As I stated earlier though Color Street Nail Polish Strips can also be used in conjunction with Nail Dashes to give you even more options. If you like the length of nail dashes and the designs of the nail polish strips, mix and match away and the possibilities are endless.
Unfortunately Color Street does not have an affliate program and I won't be signing up but if I had a friend selling it I would definitely share their link.
How To Keep Press On Nails From Popping Off
If you are wondering how long do press on nails last it will definitely depend on how you follow the instructions above but also your individual nails. Many people get at least a solid 2 weeks out of theirs (and sometimes more) while others may get closer to 10 days. Some people just love changing them so much that they use less glue and change up their manis every few days or so. You can make some pretty adorable mani mix-ups with all of the different colors and styles they have to offer! Congratulations you have just found one of the best mom/woman hacks of all time. Salon quality manicure at a fraction of the price and time investment. You can shop the best press on nails here!
Please let me know how you love them! If you would like a link to some nail dash cheat sheets and graphics plus videos of application and removal you can sign up for my email list here and I will send it on over with a quick how-to guide and a graphic for tracking your nail sizes! If you give them a try be sure to tag me on Instagram @ABeautifullyFitSoul